(Please don't mind my poor grammar, writing in English is not one of my talents ;)
Blog Meet in Helsinki
HELSINKI, 20.-21.8.2003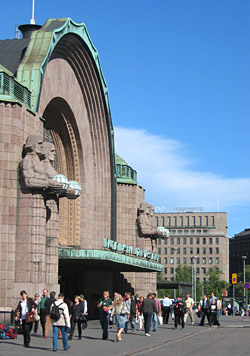 Visit to Helsinki was far more exotic than usual: meeting many new faces and having a sauna inside a bar. We went to the Spinal Tap -scale, we got to eleven.
Thursday, 2003-08-21
For some reason everyone seems to be travelling from Helsinki to Turku today. A little bit odd, considering the fact that today is (as far as I know) just an ordinary thursday. It's 6.30 PM. Soon I will be at home, again, and the sun seems like it's preparing to welcome this tired traveller home.
Wednesday,2003-08-20
Finally decided to go by train. Travelling in a cosy IC2-carriage was relaxing experience after a hectic day. It also gave me an opporturnity to fone some of my friends to let them know that I was coming. Made a preliminary plan with LAura that I could crash at their place. The train arrived at 9 PM, so I was half an hour late allready. Took a taxi to the Sauna Bar.
I was a little bit nervous. Meeting Justin Hall. The Justin.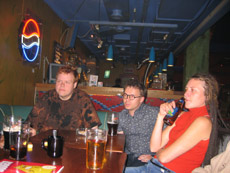 There were eventually about ten Finnish bloggers and web diarists gathered to meet Justin and each others. There was this funny contrast between some of the bloggers who were more or less anonymous with their hobby, and on the other hand, these web diarists who had kept up more open and revealing web sites following the footsteps of Justin.
The conversation was lively. Topics variated from earth to sky and participation was so hectic that at first we allmost missed our Sauna. And when we eventually got there, it was twice as hard to get out from there.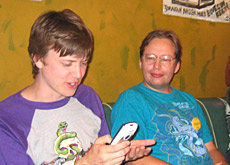 The sauna was indeed in heavy use all the evening even though some of us didn't go at all. It would've been great to see Ilya, but unfortunately he was too tired to come. It would have been awesome to see the Finnish weblogging pioneer and Justin Hall together :)
Ilya wasn't the only one who was tired after a busy day. Justin left to his hotel soon after we got out from the sauna. Some of us kept still going, we went to couple of local bubs. On the whole, the evening was very nice. I was quite dissapointed for not getting a picture of me and Justin, but maybe some other time...
Thank You all who were there. It was absolutely great! :)
PS. I can send more pictures via email if You are interested.
Tuesday, 2003-08-19
I wonder what happens tomorrow? Should I go by car or by train? How do I find the place? Am I going to stay the night or not?
A picture of me and Justin would be really nice. "Yep. That one was taken at the time we met this web pioneer in Helsinki at 2003"
Uninen,
a.k.a Ville Säävuori / Ville@Unessa.net